Hermit Crabs
This House Is Not Our Google Home
I say that I married into a year-long trip around the country in a travel trailer. It was a second marriage for both of us. For each of us, our first marriages were with someone philosophically incompatible. When searching for a second spouse, each of us had checklists of certain things we were not willing to compromise on.
Her list involved several boxes pointing toward "taking the entire family on a year-long road trip in a travel trailer after she retired from the Navy."
It didn't sound like much fun.
As a kid, I spent weeks at a time in the back of a Plymouth Voyager traversing the country. By the time I was 16, I visited all of the lower 48 states and a large swathe of southern Canada. It was a grind.
Car meals were composed of "trip meat" that my dad carved from various roast beasts and placed in our deep freeze in anticipation of the journeys. We ate trip meat on store-brand round top without condiments. Our lodging was the cheapest campsites and roach motels you can imagine. Thankfully we didn't notice because we often arrived after dark and left before sunrise. Bathroom breaks were begged and wheedled out of our parents if they did not neatly coincide with stops for gas.
So, Lauren's year-long travel-trailer trip just didn't sound fun to me.
Don't get me wrong; I love to be miserable. I'm just not masochistic enough to refer to misery as fun.
With ten years between her retirement date and me meeting her, I figured she would grow out of it. She would come to her senses and realize that three-small children in a space smaller than my shithole college apartment was a chore. It would be a dirty, smelly, nerve-wracking time that would make us all prematurely gray/bald.
Then in the summer of 2019, three years before retirement, she started travel-trailer shopping.
I slowly realized that she wasn't going to outgrow this desire and began to take a more active role in at least mitigating the dirt, smell, and lost hair.
Embrace the suck is a maxim I understand so I proactively engaged. I actually drove down three hours round trip to West Point, VA where I picked up the 21-foot bunkhouse that would in theory be our home for the year-long period beginning in the fall of 2022. For three years I worked on an itinerary that would be regularly updated to account for for changing needs and offers to camp on property owned by distant relatives, friends, and well-intentioned random people who will probably not murder us.
And here we are, August 12, 2022 setting out on a year-long epic adventure with our kids, Wolf, Bear, and Lynx. Our kids have been acting weird for a couple days, lashing out in ways that indicate a vocabulary insufficient to describe the wild range of emotions they are enduring, uprooting their entire lives on the whims of their parents.
We endured this patiently. Lauren is far more experienced than me with 7 different houses by the time she was 14. (Her father also served in the US Navy.) Our oldest two boys, Wolf and Bear, moved only once from Pensacola to Virginia, but they are too young to remember it. Our youngest has no memory of any place other than Virginia.
We spent a week in the empty house after movers packed up all our stuff for storage. The boys slept on small mattresses from the travel trailer. Lauren and I slept on twin mattresses whose bedframes had been put in storage. They had been the boys mattresses and endured their fair share of accidents. They were also 40 years old and it was time for them to go to the landfill.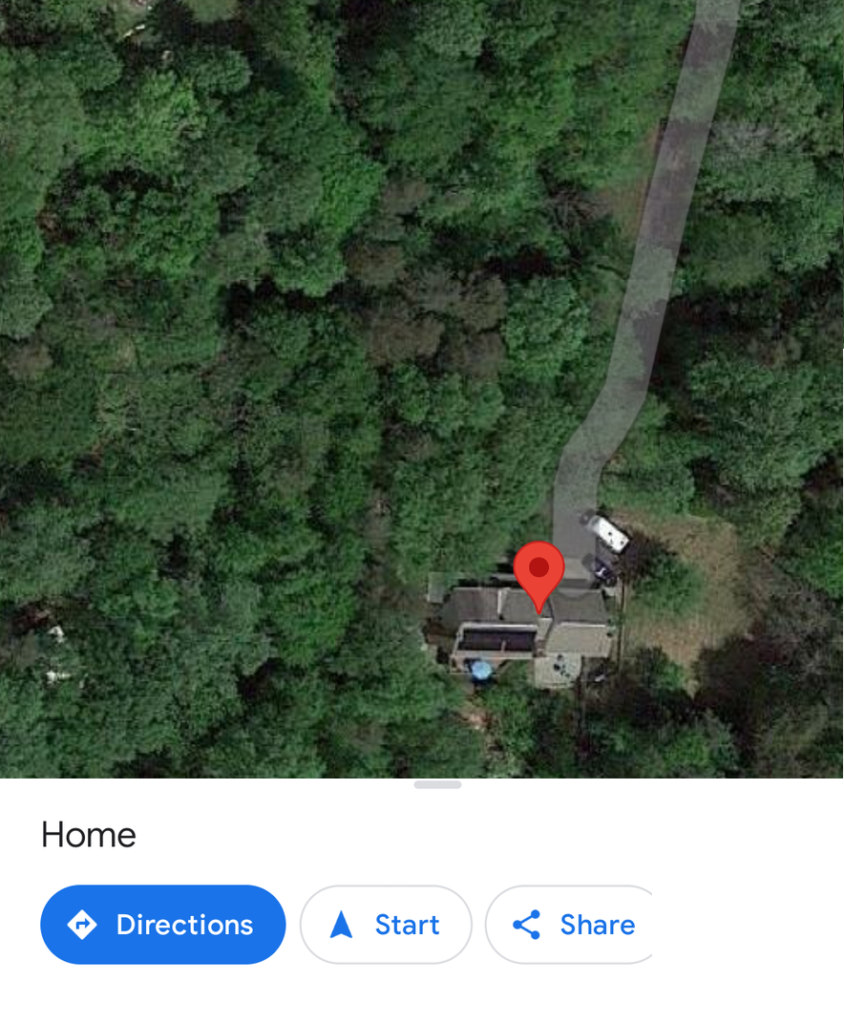 The first night, the boys dragged their mattresses and sleeping bags into our room. We protested at first but realized that it was a coping mechanism and let it ride. The second night they reluctantly stayed in their own rooms.
What makes a house a home is all the crap you have in it. When you put all that in boxes, what's left is an echoey shell. The boys enjoyed shouting loudly to hear the reverberation of their voices off the hardwood floors but they quickly lost interest and went next door to play with a friend.
We thought they had moved beyond the trauma of the move until the morning that we left for good.
That's when multiple meltdowns occurred.
The previous winter, Lauren put a single snowball in the freezer, mostly as a joke. As I was packing up the last of the stuff in the fridge and freezer, I came across it and gave it to Bear to play with. Of course, it was no longer a fluffy snowball but solid ice. I admonished him to not throw it at his brother because it would hurt. Bear nodded and began to suck on it like a snow cone. Wolf knocked it from his hands. Because it was dirty, Wolf threw it in the woods and Bear lost his mind over the demise of "snowballie." Wolf cried with him. Lynx laughed because he's at that stage of toddlerhood where Schadenfreude is most developed. I guess they found their closure on leaving the house. We were ready to move to a long-term campground for a few days while Lauren finished out-processing from the Navy.
Upon waking up a few days later, Lauren noted wryly that she had removed the address as our Google Home address. This is a setting on our Android cell phones which makes it easy to punch in directions and estimate arrival in the afternoon commute. In the age of Big Tech, you haven't officially moved until you've removed that feature from your life.
Goodbye house.
Goodbye Google Home.
Hello misery.
I mean "family adventure."
Pohick Day 1 of 2
We left our house because renters were taking over. However, we had a few days of unfinished business in Northern Virginia, most notably Lauren's retirement ceremony but also the mundane acts of out-processing from the military.
With our home being rented we turned to a local campground at Pohick Bay Regional Park. We know Pohick well because we've been here three other times for Halloween festivities in 2019, 2020, and 2021.
We call these our practice runs along with numerous other trips over the three years between buying our rig and making it our home for a year.
Pohick is pretty instrumental in these practice runs for the fact that it is similar to the amenities that we will have in MOST campgrounds over the trip. It has power and water available for each site but sewage has to be dumped in a community septic tank at the front of the campground. Some campgrounds have "full hookups" that include site-based sewage but these are rare outside large commercial campgrounds like a KOA.
I pick on KOA only because they are the most common resort-style camping experience. By resort I mean there is almost always at least one playground, sometimes several, numerous amenities ranging from zip lines to mini golf courses. Neither our budget nor our itinerary allows the resort-style camping experience. I've sought $50 a night as an average cost of camping which means that if I spend $80 on a KOA, I have to find that balance somewhere else on the trip. (See upcoming chapter on boondocking.)
This is our fourth time at Pohick, though the first time doing it in mid-summer. We have some small regret at this decision because our trailer's air conditioning simply can't keep up with temperatures in the mid-90s. However, it's great for kids with a decent playground only a few feet from our campsite and several loops of relatively flat and safe areas for bicycling.
We stumbled upon Pohick because their kickass Halloween shindigs were advertised on a community bulletin board that first fall after buying the trailer. They even put together something during the first fall of the pandemic. It was humorous that they used Easter Eggs from a cancelled Easter celebration for that fall's Halloween. I laud them for saving resources, but I had to chuckle at the cross-pagan conundrum of a Halloween Easter Egg Hunt.
We are saying that the trip officially starts when we leave Northern Virginia for Shenandoah in a few days but as we are officially in the trailer now, I am going to account for time spent here anyway.
In the meantime, we are getting into a healthy routine of homeschooling our kids and going on short hikes. Wolf is in second grade and Bear is starting kindergarten.
The only negative thing to say is an August heat wave is making things unpleasant. It's been 98 twice and the daily high has never fallen below 90. We have an air conditioner in the trailer but it is loud and inefficient, barely keeping up with the heat. Lauren has woken up soaked and swearing at least two nights. I am tired of my t-shirts gassing me out after even small outdoor tasks. The boys seem immune to it as long as we constantly push fluids.
Just a few more days until we get into the mountains and get a break from this heat.
I guess we are ready, for better or worse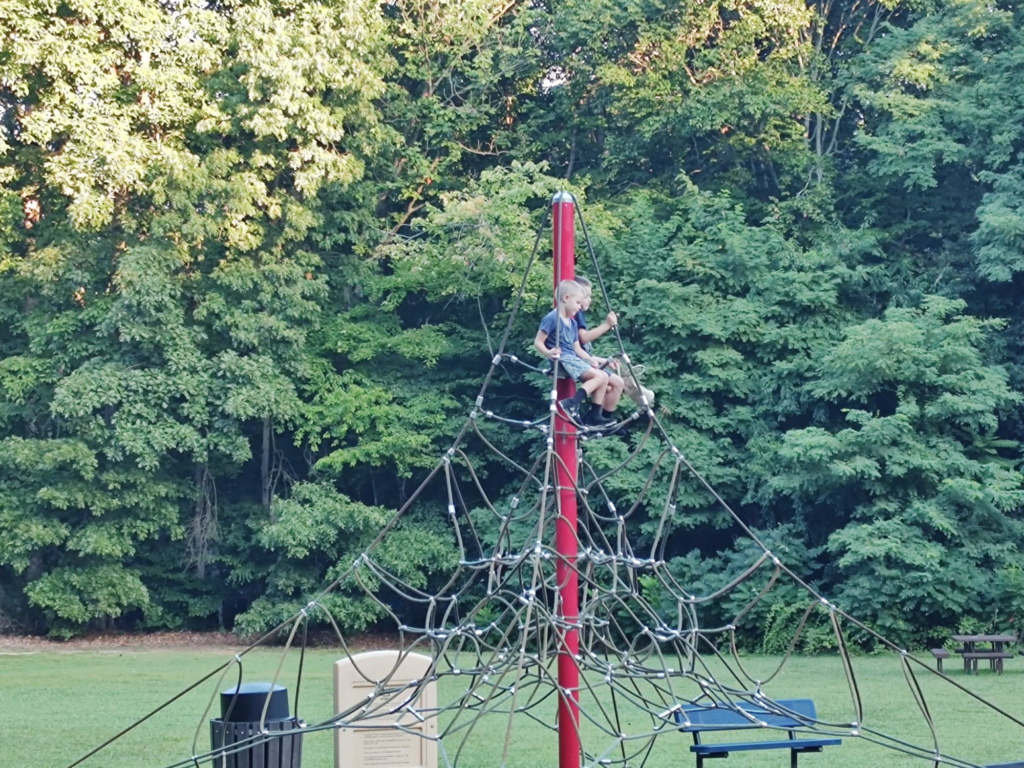 Pohick Day 2 of 2
Though we had given up our house to some renters, we still had the long goodbye to neighbors and places we wanted to see one last time. We also had my wife's retirement ceremony.
She is not technically out of the Navy until October 1. (Hold the edibles.) However, with terminal leave and some other allowances at the end of 20 years, she had her retirement ceremony in the first week of August at the Marine Corps Memorial Museum. (She has spent her last four-and-a-half years at Quantico Marine Base because she is Navy Medicine and Navy Medicine takes care of Marines.)
The retirement ceremony was exhausting as anything else involved with being a military spouse. Our youngest missed his nap and I had the hilarious duty of keeping him from shouting for no reason than to hear his own voice.
Bonus points: He interrupted the retirement ceremony after ours while I was distracted by his two older brothers.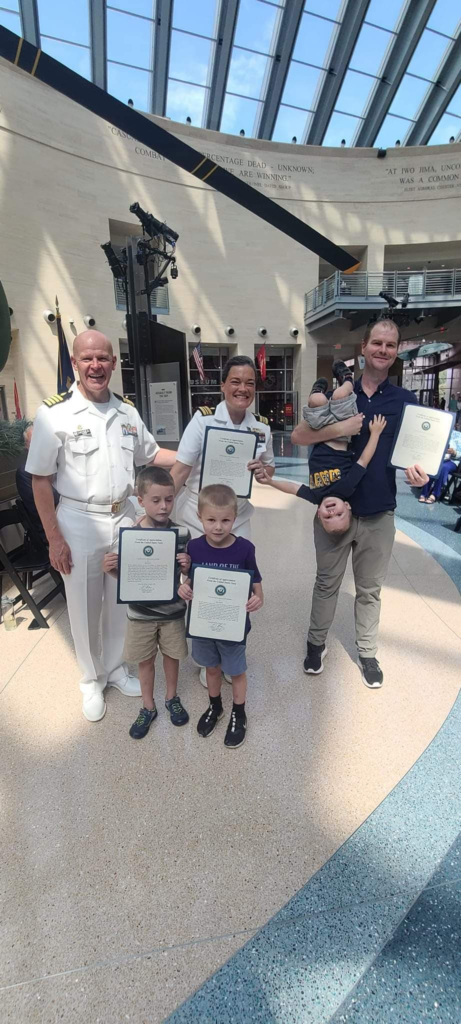 It was a fitting end for a career that has left us both burnt out. The military spouse bears a weird burden of never knowing when some crisis is going to pop up and you simply have to be flexible. I am looking forward to not having that unknown in our lives. (As I simultaneously embrace the unknowns of a year on the road.)
In reality, we spent 12 days at Pohick Bay Regional Park, but I am only devoting two posts for it. It would be a bore explaining the disentanglement necessary after 20 years, the papers processed, the debriefs, the last-minute meetings, and the goodbyes to people you liked.
The true official start to this trip is tomorrow when we leave for Shenandoah National Park. This is the first national park on our agenda.